We deliver exceptional design within any budget. Material applications and our reflective engagement to amenity space planning are where we begin your story. We stand above, with our efficient design and procurement process, our elaborate documentation, our project manag
Our team focuses on distinctive projects that we can weave into the greater neighborhood around them. Our projects are designed to feel unique, and inviting.
Studio Bespoke is a full-service boutique firm, specializing in lifestyle design for the multi-family and hospitality market. Our strength is our award-winning interiors that span the globe nationwide. Often finding inspiration in everything we do from travel to nature, art and technolog
The possibilities are endless when you start with a blank canvas.

"Possibilities are limitless when you start with a blank canvas."
We are creators of functional spaces with everlasting crafted designs. Our custom interiors compliment your vision and reflect upon an improved luxury experience.Our philosophy is to fulfill our clients' needs and exceed their expectations by delivering world class design that is nationally recognized.
PROCUREMENT AND PURCHASING
Is an essential part of branding a project that includes confirming materials, coordinating schedules and timelines and manufacturing negotiation. Offering a turn-key approach, we help you minimize costs, avoid delays and reduce administrative stress. All of this helps you to get your project finished in budget and on time.
"As always, you have impressed us with all the beautiful touches and detail throughout the interior of Bon Haven. Thank you for delivering an elegant, timeless and aesthetic interior." 
Anne Adams
"Trailside is stunning. The club room is particularly powerful. It sets the tone for a resident's first experience. Its bright, lively and comfortable. It is a space people will use on a daily basis, I love the antique mirrors." Mark Stuermann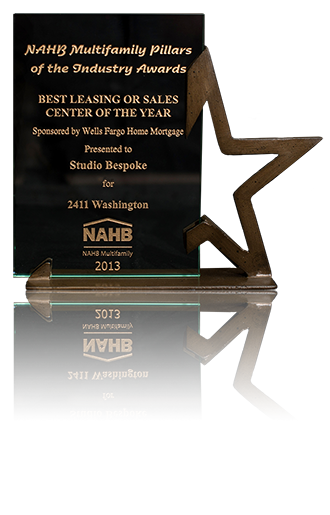 Recipient of the NAHB Best Leasing | Sales Center Award in 2013​

We offer a complete turnkey approach
Studio Bespoke creates unique environments from the ground up. We take care of every element from original designs and concepts, to sourcing one-of-a-kind furnishings and objects that complete your space. Our team is there to guide you in selections and direction – right through on-site installation. Our commitment to our clients is unmatched.